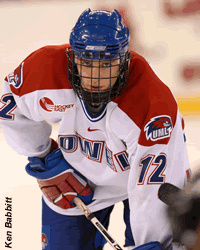 Falite's 10 goals as a freshman included a team-high three game-winners.
---
Key Statistics: Falite quickly emerged as the best of UMass Lowell's 15 freshmen in 2006-07, tying Jason Techjma for the team lead with 10 goals and finishing second with 18 points.

What He Does: Falite (pronounced fah-LEE-tee) is a natural goal scorer, something that's a product of his approach as much as his skills. He wants to score on every shift, and is determined not to pass up a shot. He has good speed and a history of producing offense, having posted 32 goals and 74 points in his fourth and final season with the EJHL's Boston Jr. Bruins.

The Bigger Picture: Falite grew up in nearby Billerica as a UMass Lowell fan. As head coach Blaise MacDonald notes, the program was built on a foundation of local talent like former NHLers Dean Jenkins and Jon Morris. With the Riverhawks recently stickhandling through lease issues with the city council, it's easy to see why continued local impact is welcome. On the ice, expect Falite to round out his game and contribute in more ways. First and foremost, however, he will be leaned on as a power-play triggerman and an even-strength catalyst for a team that averaged just 2.06 goals per game last season.
UMass Lowell head coach Blaise MacDonald on Falite's shot: "If he has a shot he's going to take it. He's got a tremendous release and gets a lot of velocity on his shot. If I had that kind of shot I'd want to shoot the puck all the time, too."
— Nate Ewell