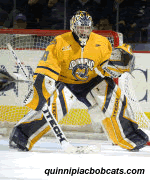 Fisher has started 72 games already as he enters his junior season at Quinnipiac.
---
Key Statistics: Fisher played in 39 of Quinnipiac's 40 games last year, posting a 2.52 goals-against average and a .903 save percentage. He had two shutouts in the playoffs, one at Cornell in the opening game of a quarterfinal series and one in the ECAC Hockey semifinals in Albany against St. Lawrence.

What He Does: Fisher made big strides from his freshman campaign to his sophomore season, and is expected to do the same this year. He gained valuable game experience last season, but it came at a cost as Fisher showed signs of mental fatigue through the middle part of the season. He raised his game for the postseason run and was a big part of Quinnipiac's sweep of Cornell in the quarterfinals at difficult Lynah Rink.

The Bigger Picture: The Bobcats stumbled down the stretch last year, losing five of their last six conference games but rallied for a strong playoff run and eventually lost the ECAC Hockey championship game to Clarkson. Point-producing defenseman Reid Cashman is lost to graduation, but the Bobcats shouldn't have trouble scoring goals. If Fisher can improve his consistency, Quinnipiac could be among the top-10 teams in the country and is a strong candidate to make the NCAA Tournament.
Quinnipiac head coach Rand Pecknold on Fisher's learning curve: "He has grown in maturity and gained experience, and we see the potential for a great season. If you look at what (Clarkson goalie David) Leggio did last year, he improved greatly from his sophomore year to his junior year and I think a lot of that was just from maturity. Fisher came to us as a true 18-year-old freshman. He's still getting better and can have the same kind of breakout season that Leggio did."
— Joe Gladziszewski