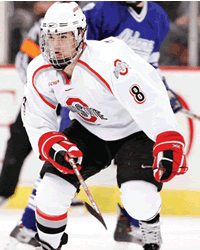 Fritsche's return to health is good news for the Buckeyes.
---
Key Statistics: Fritsche, INCH's Freshman of the Year in 2005, missed the first half of his junior season due to a severe bout of ulcerative colitis. The intestinal condition forced him to spend much of September in the hospital — unable to eat solid food, he lost 40 pounds while being fed intravenously. Upon his return, he scored 13 points in 19 games.

What He Does: In his first two seasons in Columbus, Fritsche established himself as one of the CCHA's most dynamic offensive threats. He's got a knack for setting up his teammates and for finding holes in his opponents' defensive zone coverage, sneaking into those spaces for quality scoring chances. Fritsche seems bigger than his listed size of 5-foot-11, 185 pounds, but he struggled to make plays in traffic upon his return last year. He's also valuable contributor to the Buckeyes' special teams.

The Bigger Picture: Ohio State coach John Markell says it's quite possible Fritsche was feeling the effects of ulcerative colitis as a freshman and sophomore, though not as extreme as what he endured last fall. What that means, explains Markell, is that as good as Fritsche was during those two seasons, there's a chance we haven't seen him playing at full strength — a scary thought for OSU's opponents. If he produces like he did as a freshman and sophomore, when he averaged nearly a point a game and figured in on about 30 percent of the Buckeyes' goals, it'll be a big boost for a team that recorded five ties and had seven one-goal losses last season.
The immediate task, however, is catching up on the classwork he missed when he was hospitalized. Markell says Fritsche has devoted a good chunk of his summer to school.
Ohio State head coach John Markell on the example Fritsche has set for the team: "It's been frustrating for him, but with his life plan he's doing better with [colitis] and he's maturing. He'll be a tremendous role model if he can fight through this adversity and show the other guys that it all can be taken away from you pretty quickly."
— Mike Eidelbes