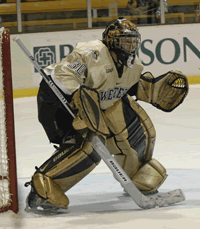 Gill's .912 save percentage last year stands as the third-best among returning CCHA goaltenders.
---
Key Statistics: Gill ranked second in the CCHA with four shutouts and posted a 13-8-1 record as he claimed the Broncos' starting goaltending spot by the end of his rookie season. He finished with a 2.79 goals-against average and a .912 save percentage.
What He Does: Gill covers a lot of ground, at 6-foot-2, 200 pounds, but his athleticism and mental toughness are bigger strengths than his size. Proof of those qualities may best be seen away from the rink, where he's an outstanding golfer – about a three handicap, he had some success in state junior tournaments in Minnesota.

The Bigger Picture: Although he earned CCHA All-Rookie Team honors, Gill's efforts as a freshman were often overshadowed by classmate Mark Letestu. Letestu has turned pro, Paul Szczechura graduated and goaltending partner Daniel Bellissimo signed to play in Europe, putting Gill squarely in the spotlight in 2007-08. The Broncos were .500 and had their best CCHA finish in five years last season, and will rely heavily on Gill's goaltending if they are to have any hope of improving on that performance in light of their offensive losses.
Jon Cooper, who coached Gill with the NAHL's Texarkana (now St. Louis) Bandits: "He was a stone wall for us. Especially in our early years as a franchise, when you really need your goalie, he was there for us. Very, very loyal as well. He originally got passed on by other junior leagues and Minnesota schools, where he is from. When he starting having success with us they all came calling, but he stayed a Bandit for three years."
— Nate Ewell