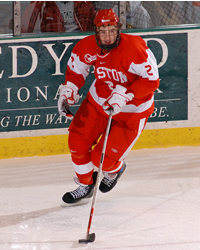 The Terriers need Gryba to keep using his hands to move the puck instead of using them to impede opponents.
---
Key Statistics: Gryba had a goal and three assists last year, but those weren't the numbers the Terriers cared about. In 38 games, he took 38 penalties, most of which were in the first half of the season.
What He Does: The 6-foot-3, 215-pounder is a bruising, physical specimen on BU's blue line. He was fun to watch last year because he had no qualms with heading into the corners or laying out a forward at center ice. Gryba is an obvious talent – evidenced when the Senators took him in the third round of the 2006 draft – but he was raw. Most notably, he often took freshman-like penalties, getting caught out of position and trying to stop the opposition with his hands. That's when the whistles blew.

The Bigger Picture: Boston University is losing a lot of leadership on defense with the graduations of Sean Sullivan, Kevin Schaeffer and Tom Morrow. And, without John Curry in net, defensive play will be a major point of emphasis. Gryba will need to step up his game along with upperclassmen Matt Gilroy, Dan McGoff, Brian Strait and Kevin Kielt.
Boston University head coach Jack Parker: "We were very, very pleased with [Gryba's] freshman year. We wanted him to cut down on his penalties, and he really did that in the second half. He handles the puck well. He can really move the puck. He's a physical hockey player. We need him to stay physical without the stick, stay strong with his hands and not get those cross-checking penalties and stick penalties, but we think we've got that problem solved already. He brings a lot to the table with his hockey sense."
— Jeff Howe