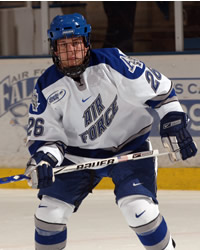 Falcons head coach Frank Serratore plans to use Hajner and Mike Phillipich on a line with Hobey Hat Trick finalist Eric Ehn next year.
---
Key Statistics: One of just four players to skate in all 40 of the Falcons' games last season, Hajner led all Air Force rookies offensively with 27 points (13 goals, 14 assists). Prior to his enrollment in the academy Hajner's 36 goals for Melfort led the entire Saskatchewan junior league in 2005-06.
What He Does: Learning the game on a roller hockey rink in Vegas, Hajner didn't even try ice hockey until he was 12. Like other players who began playing with wheels instead of blades on their skates, his is a creative, puck-handling finesse game, and Hajner admits having to adjust to some of the speed and grit of the college level. Maybe that's why he lists weight-lifting as his favorite hobby.
The Bigger Picture: Midway through his rookie season, Hajner had three or four goals and was spending his ice time looking to pass first and shoot later. Once he started putting more pucks to the net in the second half, his game took off faster than an F-16 under full power. After a season spent on the team's second line and second power-play unit, Falcons coach Frank Serratore plans on putting Hajner on a top line with Mike Phillipich (who had 44 points last season) and Hobey finalist Eric Ehn right from the start.
When reflecting on last year's near-upset of Minnesota in the NCAA Tournament, Hajner said the Gophers' previous tournament experience made the difference in the last 10 minutes of the game. Now, with their own postseason experience to draw upon, the team goal is a return to the NCAAs and chance to play in the Frozen Four before a friendly crowd just up the freeway in Denver.
Falcons coach Frank Serratore on Hajner: "Jeff has great hands and great instincts. He's one of those kids who, when the puck gets on his stick, is a natural scorer. College hockey is a high-tempo game and I think it took about a half-year for him to adjust to the pace. But the great players make an adjustment, and he did."
— Jess Myers