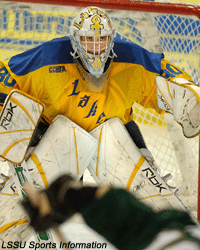 Inglis was 5-3-0 in 10 games for Lake Superior State last season. Three of the wins came against CCHA foes.
---
Key Statistics: Inglis played in 10 games as a freshman, starting eight. He posted a 5-3-0 record, a 2.89 goals against average, and a .908 save percentage.
What He Does: In the crease, Inglis is the polar opposite of Jeff Jakaitis, the guy he shared the Lakers' goaltending duites with last season. The now-graduated Jakaitis, who measured 5-foot-10 and 175 pounds, was an athletic, acrobatic goaltender. Inglis, who's 6-foot-4 and 212 pounds, is more economical with his movements, preferring to use his size to make opponents feel as though they've got nowhere to shoot.
The Bigger Picture: Seamless goaltending transitions are a Lake Superior State tradition — back in the day, Bruce Hoffort gave way to Darrin Madeley, who was followed by Blaine Lacher, who was replaced by John Grahame. Laker coach Jim Roque says the team's goaltending job is Inglis's to lose, adding that the Calgary native has earned the right to be the team's starting goaltender based on his 10-game stint as a freshman.
Roque doesn't expect Inglis to duplicate Jakaitis's career numbers (2.38 GAA, .925 save pct.) but wants him to be aggressive, make the first save, and trust that his teammates will clear rebounds and cover the backside. Watch for Inglis, who played deeper in the net last season, to come out to the top of the crease to challenge shooters.
Lakers coach Jim Roque on the similarities between Inglis and Jakaitis: "Jeff was a late recruit, and Pat was a late bloomer, too. [Both] are serious about goaltending and serious about school, and Pat learned a lot from Jeff as far as how hard he worked every day and how hard he competed."
— Mike Eidelbes