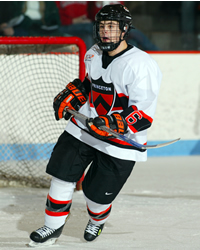 Jubinville ranked tied for 11th in ECAC Hockey in conference scoring with 21 points.
---
Key Statistics: He led Princeton with 29 points and played in 32 of 34 games for the Tigers. Most of his production came during ECAC Hockey contests, as he had 21 points in 21 games.
What He Does: Jubinville is a quick player who sees the ice well and creates things in the offensive zone for Princeton. He has become a more well-rounded player over his two years and gets lots of ice time because the coaching staff can trust him to make good decisions in all situations. He nearly tripled his point total from his freshman year, when he scored just 10 points.

The Bigger Picture: We don't usually profile a team's leading scorer in the INCH A-Z feature, because most readers already know who those guys are. Jubinville is an exception, because his point production will be vital to Princeton's success in the 2007-08 season. The second, third, and fourth leading scorers last year for the Tigers were all seniors — Darroll Powe, Grant Goeckner-Zoeller, and Kevin Westgarth. Princeton scored more than four goals just twice in 34 games.
Princeton coach Guy Gadowsky in the Feb. 16, 2007 ECACHL Notebook: "He may be the fastest and quickest player I've ever coached. His increased production is probably a reflection on his ice time. He plays a lot because he's well-rounded and we can use him in all situations. He fits the mold, because of his quickness and competitiveness, and I'm sure that there's not a coach in the country that wouldn't want a Lee Jubinville."
— Joe Gladziszewski