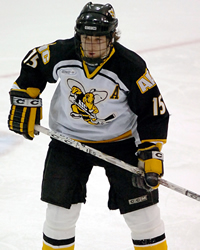 Jurynec's teammates elected him to wear the 'C' this year.
---
Key Statistics: Jurynec is not a player who will light up the scoreboard, even going back to his junior hockey days in the North American Hockey League. He had two goals as a freshman, four as a sophomore and six as a junior. All of his 34 career points, save for three assists, have come in league play. Last season he posted six goals and nine assists, tying for third on the team in goal-scoring, fourth in points and fifth in helpers.
What He Does: Even though he's not a gifted scorer, Jurynec's knowledge of the game makes him a natural to be on the ice in important game situations. He is a premier penalty-killer, a tough forechecker and prides
himself on his defensive ability. Jurynec plays rugged but does not take stupid penalties.

The Bigger Picture: On a team which has struggled for wins over the years, Jurynec is exactly the type of motivating presence the Yellow Jackets need to elevate play in practices and games. His hard work and intensity has inspired his teammates, who made Jurynec a unanimous choice as team captain.
AIC head coach Gary Wright on Jurynec: "In all my years of coaching he is easily in my top five of all players I've coached in terms of overall commitment and intensity."
— Ken McMillan