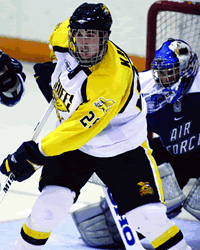 Kasch had 12 points in his final 16 games of 2006-07.
---
Key Statistics: It's all about extremes with Dave Kasch. Standing 6-foot-5, Kasch is the tallest skater in Atlantic Hockey – only five players in all of Division I hockey are taller. At 24 years, four months, he is the seventh-oldest player in the league. Kasch is a fifth-year player, the recipient of a medical redshirt for dislocating his shoulder and playing just eight games during his junior academic year. All but six of his 43 career points have come in league play. He scored six goals in his sophomore and redshirt junior seasons, and posted a career-high 13 assists last season.
What He Does: Kasch figures he has spent enough time in the training room the past two seasons – he missed 27 games as a junior following left shoulder surgery after suffering three dislocations and he missed eight games last season with a second-degree knee sprain. When healthy, Kasch plays center for one of Canisius' top two lines. His puck-handling is a plus, and Kasch can be very effective as a screen when he camps out in front of the crease.
The Bigger Picture: Kasch says it feels weird to have graduated and still have eligibility remaining, but his presence is a bonus for a club which lost six seniors, including four forwards. Kasch will center one of the top lines and bring experience to the penalty kill unit.
Dave Kasch on whether he felt the hockey gods were against him: "Definitely. There was no doubt in my mind. Everything crossed my mind, from 'Is hockey for me?' and 'What's going on?' I was graduating at the end of the year. I thought, 'Do I want to come back? Can I get over the knee injury?' You can't make decisions when your mind is troubled. I worked hard and got back into it. I am glad that I did."
— Ken McMillan