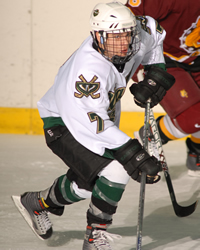 The diminutive Katz was willing to battle for loose pucks, and was a five-time recipient of CHA Rookie of the Week honors.
---
Key Statistics: Katz became the ninth freshman in the history of the program to finish in the top three in scoring with 11 goals and 23 points over 35 games. He continued to score at a steady rate throughout the season including three goals and five assists over the last 10 games. Katz was named CHA Rookie of the Week five times, including three of the last four weeks of the season and he was one of three Warriors named to the CHA All-Rookie Team.
What He Does: Katz spent considerable time on the right wing with seniors Nate Higgins and Jason Bloomingburg and the trio combined for 72 points, which was more than a quarter of the team's total point production for the year. He was on the ice for only four goals against in the last 13 conference games. Even though Katz is listed at only 5-feet-8 and 145 pounds, he was more than willing to do the corner work and find open spaces.

The Bigger Picture: With his two senior linemates departing, the pressure will be on Katz to find good chemistry with two new running mates and prove that his numbers weren't just tied to the abilities of his former veteran associates.
Wayne State coach Bill Wilkinson on Katz: "He's a fearless little guy. Small in stature, but with a big heart. He's been leveled a few times, but he gets right back up. He's not afraid to show he's got the courage to go inside. He's not fast, but he's quick. He'll spin you around in the corner more than once."
— Warren Kozireski