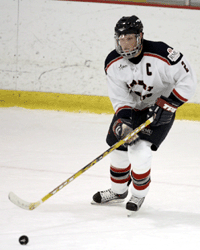 Kaufman scored six goals and 14 points in 25 games for RMU before a wrist injury sidelined him in early February.
---
Key Statistics: Before suffering a severe wrist injury Feb. 3, Kaufman had already doubled his goal total from his first two seasons combined and was eating up a lot of minutes for the Colonials. Of his six goals, three came on the power play and two were game-winners. One of those came against Princeton to launch RMU on a five-game winning streak.
What He Does: At 6'2", the right defenseman uses his size to push forwards to the outside and is effective clearing space in front. Even after missing six conference games, he finished eighth among CHA defensemen in scoring. He provided a take-charge attitude and a calming influence on the ice during key moments. This will be his third season wearing a letter.
The Bigger Picture: Robert Morris was 11-13 before his injury, and finished the season 3-6. The Colonials allowed two or fewer goals per game in 8 of 11 games immediately prior to the injury; that number jumped to 4.5 gpg after Kaufman was hurt. He'll likely pair with fellow senior Rob Cowan again this season.
Robert Morris coach Derek Schooley on Kaufman: "I think Chris is the premiere returning defenseman in CHA. He was on pace for an all-league season until he was hurt. He had surgery on his wrist and hand and is back skating now with no problems. Chris helps us on the blueline and with leadership; he's a very positive and upbeat young man."
— Warren Kozireski