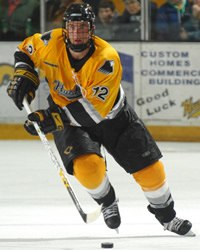 Kinrade's offensive numbers jumped by four goals and 12 points from his freshman season to last year.
---
Key Statistics: On a defense-first club, Kinrade was one of just two Husky blueliners to skate in all 40 of the team's games. He notched 19 points and had a team-best +15 plus/minus rating as Tech finished above .500 and made its first WCHA Final Five appearance in a decade.
What He Does: Kinrade is blessed with decent size (6-foot, 200) and has all of the necessary tools to defend a college hockey blue line, but it's his offensive abilities that have fans in Houghton harboring hopes of the Huskies taking a step into the WCHA's upper echelon in 2008. As a freshman and sophomore, Kinrade often showed his ability to jump into the offensive rush as a fourth attacker. If the Huskies are to contend, the offensive boost he provides will be vital.
The Bigger Picture: Huskies coach Jamie Russell mentions Kinrade's skating skills first and foremost when asked about the British Columbian's past successes and future promise. It's that confidence in Kinrade's ability on his skates that has Russell unafraid to appoint the junior as his top defenseman weeks before the team even takes to the ice. College is all about learning, and Russell is also quick to mention the two seasons of important on-ice education Kinrade has gotten while playing a regular role on Tech's power play. In other words, when Northern Michigan comes to visit MacInnes Student Ice Arena on Oct. 12, it's no secret who the Wildcats' top line will see on the opposing blue line when the first puck is dropped.
Michigan Tech head coach Jamie Russell on Kinrade: "Geoff will inherit the number one defenseman role this season, as his skating and strength allow him to play any style. As a junior, we expect Geoff to play a lot of minutes with no drop off from shift to shift or night to night."
— Jess Myers