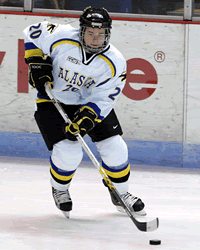 Knelsen had a pair of two-goal games in his first three college games last fall.
---
Key Statistics: Knelsen put up some impressive numbers as a freshman, finishing third on the Nanooks with 17 assists and fourth with 22 points, despite being dogged by a shoulder injury for much of the year. He was limited to one goal in his last 32 games after starting off with four goals in three games.
What He Does: As a freshman, Knelsen's game could get overshadowed by his age – 17, the youngest player in the CCHA and two years younger than his brother and classmate, Brandon. But his talent is evident. Even at 17, he showed flashes of offensive brilliance. His hands could make him a dynamic scorer in the CCHA.
The Bigger Picture: New head coach Doc DelCastillo has come away from a few phone calls back to Three Hills, Alberta, impressed by the off-season commitment of the brothers Knelsen. The combination of his age and that type of work ethic leaves open the possibility for huge strides in Dion's game after an already impressive rookie season. "The sky's the limit for this young man," DelCastillo raves.
New Alaska head coach Doc DelCastillo on Knelsen: "As an opposing coach you're more worried about your own team, but you just knew he was a player. When he's on the ice, he's dangerous, with his skating, his skill and his ability to make plays."
— Nate Ewell