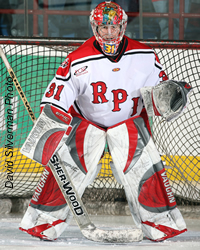 Lange earned the starting nod in Rensselaer's opening playoff game against Colgate last spring.
---
Key Statistics: Lange started 22 games last year for the Engineers and posted a 3.54 goals-against average and .876 save percentage as a sophomore. He shared the goaltending duties for RPI with Jordan Alford. Lange had two shutouts as a freshman.
What He Does: The junior goalie is intelligent and athletic. He relies on reading plays and reacting to the puck rather than using size and angles.

The Bigger Picture: Any discussion about Lange must also include Alford. The tandem split time in the crease for the Engineers last year. Each had good stretches and bad, and were plagued by a defense corps that included four freshmen most nights. Lange got the bulk of the starts down the stretch last year, as both goalies had the chance in the second half of the season to seize the starting job. Neither did. Each will go into the preseason later this fall with the same opportunity to establish himself as the team's number-one goalie.
Rensselaer head coach Seth Appert on the potential of RPI's goalies: "We're happy with where we believe they can go, if not where they were at times last year. Both goalies had tremendous summers and should benefit from having a little more experience gained by the defenders playing in front of them."
— Joe Gladziszewski