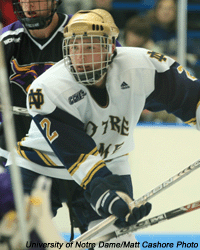 Mazzolini, an Alaska native, won an NAHL championship with the Texas Tornado in junior hockey.
---
Key Statistics: Lawson was named to the CCHA All-Rookie team last season after scoring four goals and 15 assists in 38 games for the Fighting Irish. His work in the classroom was even more impressive — Notre Dame coach Jeff Jackson said Lawson posted a 3.5 grade point average during the second semester, up nearly a point from the first semester.
What He Does: Watching Lawson play is similar to listening to Tchaikovsky's "1812 Overture"; one can take pleasure in the bells and cannons the first time around, but it takes repeated exposures to appreciate the nuances that blend to create the whole. In Lawson's case, his puck skills, positional play, and physicality are readily apparent. It's his vision, ability to recognize plays moments before they unfold, and steadying influence on the ice that become noticeable the more one sees him play.
The Bigger Picture: Though he played with a poise of a seasoned veteran, Lawson was afforded the luxury of playing alongside senior rearguards Noah Babin, Wes O'Neill, and Tom Sawatske last season. This time around, much of the task of nurturing a corps of young, talented defensemen — including highly touted newcomers Ian Cole and Ted Ruth — falls on his shoulders. Jackson says Lawson, with his calm demeanor and motivational skills, is ideal for the leadership role. And, as evidenced by his captaincy of the U.S. team at last winter's World Junior Championship, he's capable of handling the myriad of personalities in the locker room.
Notre Dame coach Jeff Jackson on Lawson: "Kyle has a real maturity to his game. He thinks the game so well, and he has the ability to slow the game down in his mind. You learn to appreciate the things he brings to the game from a hockey perspective and an emotional perspective."
— Mike Eidelbes