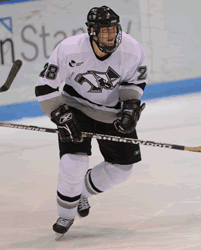 Mazzolini, an Alaska native, won an NAHL championship with the Texas Tornado in junior hockey.
---
Key Statistics: Mazzolini has worn the Skating Friar in all 72 games since he arrived on campus, recording 35 points. In 2006-07 he led the team with 16 assists and ranked second with 21 points, while finishing tied for third with a plus-4 rating.
What He Does: With his size (6-foot-2, 210 pounds) and defensive awareness, head coach Tim Army used Mazzolini against the best centers in Hockey East last season: Boston College's Brian Boyle, New Hampshire's Trevor Smith, Maine's Michel Leveille and others. Mazzolini has what Army calls a "sticky stick" that helps him intercept passes and put Providence on offense.
The Bigger Picture: While Mazzolini has posted solid numbers in his first two years, Army expects big things offensively from his big center. Since he plays against the opponent's top line he will get plenty of ice time and should be able to take advantage of any defensive shortcomings in their game. Because of his size and two-way potential, Army says Mazzolini could be a modern "power center" for the Friars, in the mold of NHLers Eric Staal or Jason Spezza.
Providence head coach Tim Army on Mazzolini: "What I look for this year from Mazz is more production offensively. He's just beginning to tap into his potential there. He's the guy to watch on our team – when he plays well, we play well."
— Nate Ewell