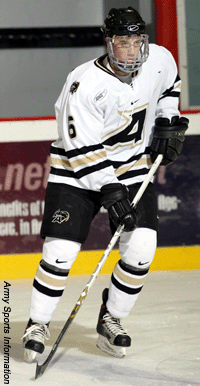 Meyer's freshman year was very good, but folks around West Point are even more excited about his potential in the coming years.
---
Key Statistics: Meyer proved he could score in the junior hockey ranks. He posted 19 goals and 19 assists with the Mahoning Valley Phantoms of the North American Hockey League. As a freshman at Army, Meyer ranked second on the team with 11 goals and his 27 points ranked third – he ranked 19th nationally among rookies. Nearly half of his points came on the power play with
six goals and seven assists. His 11 goals were the most by an Army freshman since Chris Garceau netted 12 in 2001-02.
What He Does: Meyer plays a very smooth game for a big player. At 6-foot-2, 185 pounds, Meyer uses his size well and can be very physical. There were times last season when Meyer was the most dominant player on the ice. His long strides make him deceptively quick, and his long reach makes
him an asset in front of the net and when the Black Knights are killing penalties.

The Bigger Picture: Army coach Brian Riley says it's a good bet Meyer will stay on the left wing with senior center Bryce Hollweg and right winger Luke Flicek, forming one of the more formidable lines in Atlantic Hockey. Meyer played better than most freshman who pass through the Academy, and if he continues to improve he may become one of the top forwards that West Point has produced.
Army head coach Brian Riley on Owen Meyer: "He does things on the ice in practice that have the coaches and the players look at him and go, 'Wow.' If he continues to progress, he could be a dominant player in this league when it's all said and done."
— Ken McMillan