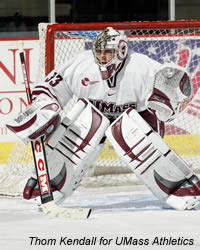 Meyers made three starts last season while serving as an understudy to Jon Quick.
---
Key Statistics: Meyers only saw action in five games (three starts) last year while serving as the backup to Jon Quick. He went 2-1-0 with an .887 save percentage and 2.97 goals-against average. While Quick was on the bench with an ankle injury on Feb. 25, Meyers made 29 saves at Northeastern to lead UMass to a crucial 5-3 comeback victory.
What He Does: The win over the Huskies marked Meyers' lone start against a Hockey East school last year, and Northeastern wasn't exactly a model of offensive consistency. There isn't a great body of work to go on here, but there are two ways to look at that game. For starters, Meyers made 29 saves on the road and got the win during UMass' late-season push up the league standings. But, he allowed three goals (off a rebound, a wrister through his five-hole, and a turnaround shot) that he'd probably like to have back. Either way, the overall performance was strong, and that's not a bad impression to leave when there isn't much of a sample size.

The Bigger Picture: Meyers has to be The Guy Who Replaces The Guy, perhaps the most unenviable of positions to be put in as an athlete. Quick, who left after his sophomore campaign to sign with the Los Angeles Kings, put together the greatest goaltending season in UMass hockey history in his first full year as a starter, so folks in Amherst have something to
fall back on with Meyers. While the Minutemen came together on every part of
the game during their first NCAA Tournament run last year, Quick was the guy in the spotlight. Whether it's fair or not, that spotlight – or microscope – will now be on Meyers.
Former UMass goalie Jon Quick on Dan Meyers: "He's fully capable of [taking over as the starter]. I think he learned a lot last year working with [UMass goaltending coach] Jim Stewart, and he gets along well with the team. He should be fine. The bigger part is being mentally prepared for it. It's still the same game he's been playing for the last 16 years or however long he's been playing. He has to be ready for the 40-game season, mentally and physically. He's got to be committed when he is at practice – making practices worthwhile to get ready for games."
— Jeff Howe