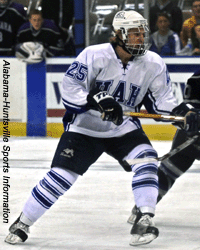 Six of Morrison's nine goals as a freshman came after Christmas.
---
Key Statistics: The top-scoring rookie on the Chargers with 9-4-13 as one of five players to play in all 36 games. He was named College Hockey America Rookie of the Week for Jan. 2 after his two-goal game against nationally ranked UMass in 5-2 victory. Scored his first collegiate goal on a penalty shot at Air Force in his second game. Named to the CHA All-Tourney Team.
What He Does: After playing linemate roulette for much of the season, he settled in with Steve Canter and Joe Federoff for the final 10 games of the season. In the CHA semifinal, he scored to cut into a 3-1 Niagara lead, a game the Chargers eventually won. In the CHA final against Robert Morris, he netted first UAH goal in the second period, sparking his team to an improbable comeback from an 4-0 deficit en route to the league's playoff championship.
The Bigger Picture: After spending the first half of the season playing primarily on the third line, Morrison worked his way onto the team's top two units and proved to be a momentum changer in the playoffs. Look for him to remain on left wing with Federoff at center; new head coach Danton Cole will audition candidates for the best fit on the right side.
Alabama-Huntsville coach Danton Cole on Morrison: "With only two seniors and 12 freshmen, it's a must for our sophomores and juniors, including Kevin, to step up. He came on strong at the end of last season and will see a lot of situations and be matched with good teammates. That will hopefully translate into scoring more points."
— Warren Kozireski