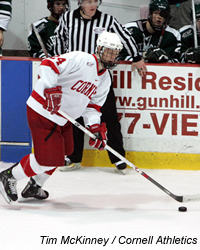 Nash will be counted on to provide more offense, and maintain his good play in the defensive zone.
---
Key Statistics: Nash played in 29 of Cornell's 31 games and had 14 points. Both of his two goals came on the power play. He took 19 minor penalties for 38 minutes.
What He Does: When Sasha Pokulok signed a pro contract after his sophomore year following the 2005-06 season, there was room on the Cornell blue line for a puck-moving defenseman who can make good reads and has good hockey sense. That player was Brendon Nash, who enjoyed a fine freshman season under some duress as a key contributor on a very young defense corps. With confidence from a strong second half last year, and an increased understanding of the physical and mental rigors of college hockey at an Ivy League institution, Nash is poised for a great sophomore campaign.

The Bigger Picture: Brendon Nash will be the second-most noticed Nash on the Big Red this year, as his younger brother Riley arrives for his freshman campaign after recently being drafted in the first round of the NHL Entry Draft by the Edmonton Oilers earlier this summer. That doesn't mean that Brendon will be the second-most important. Even though he's only a sophomore, he'll be a top-four defenseman for the Big Red and will be relied on to contribute at both ends of the ice.
Cornell assistant coach Brent Brekke on Brendon Nash: "He really matured in the second half of the season and took on added ice time with the injuries on our defense and especially to Jared Seminoff. People know about his puck-moving ability and his hockey sense, but we were please with how he played defensively and on the penalty kill."
— Joe Gladziszewski