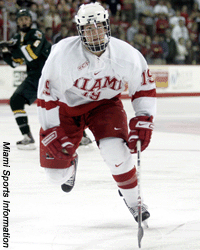 Your place or mine?: Of Palmer's 30 points, 15 were scored at home and 15 were registered away from Oxford.
---
Key Statistics: Palmer scored 11 goals and added 19 assists in 42 games during his rookie season at Miami. Of his 30 points, all but seven (two goals, five assists) came at even strength or when the RedHawks were short-handed.
What He Does: It should come as no surprise that Palmer, who turned 21 last February, played like a seasoned veteran as a freshman. He handled a variety of roles for the RedHawks last season, playing both wings and even logging some spot duty at center. Miami coach Enrico Blasi says Palmer's hands are as good as one will find in the CCHA. That, coupled with his tenacious puck pursuit, gives him the ability to pick an opponent's pocket on a moment's notice. He's a trustworthy defender, too; Palmer was often on the ice during the last minute of close games.
The Bigger Picture: With Christie and Guerin — both of whom eclipsed the century mark in scoring during their careers — now graduated, Palmer becomes a logical choice to anchor a line to complement the high-scoring duo of seniors Nathan Davis and Ryan Jones. Whether he's grouped with a proven returnees such as junior Justin Mercier or put with one or two of the RedHawks' heralded freshmen, Blasi says that with Palmer's ability to score, set up teammates, and run down the puck, there's no reason he can't score 40 points this season. Keeping opponents from zeroing in on Davis and Jones is a must.
Miami head coach Enrico Blasi on Palmer: "He's not a flashy guy. He's a gamer. If you watched him in practice, you might not notice him. Put him in a game situation, you're going to notice him because he's always got the puck or always around the puck."
— Mike Eidelbes