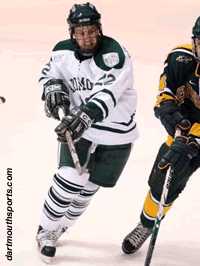 Pritchard's all-around game is what Dartmouth's coaching staff likes best about him.
---
Key Statistics: Pritchard finished his sophomore year with 10 goals and 18 points. He had just 10 points as a freshman, but his points aren't what make him important to Dartmouth.
What He Does: Pritchard is an all-around player who does the little things correctly. He scored 10 goals last year, and many of them came at important times in games, but when he wasn't scoring a big goal he could be found winning a face-off, blocking a shot, finishing a check, or digging a loose puck out of the corner. He spent most of the time centering the Big Green's third line last year.

The Bigger Picture: Pritchard's well-rounded game as a centerman and leadership abilities make it easy to draw comparisons to former Dartmouth stalwart Mike Ouellette. The difference is that Ouellette racked up much higher point totals. It's not likely that Pritchard would be a 50-point player, but he'll probably contribute in the 30-point range this year and that'll be important to the Big Green, as four of last year's top-six scorers are gone.
Dartmouth head coach Bob Gaudet on Pritchard's leadership: "We saw it when he was a freshman, stepping on to campus you could tell he was a leader among his group of freshmen. Now he's a leader among our entire team."
— Joe Gladziszewski