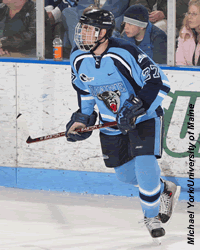 Ramsey is one of four Maine defensemen who stand at least 6-foot-2.
---
Key Statistics: Stats aren't Ramsey's thing. He's a true defensive defenseman who hasn't scored a goal since his sophomore season. It's a fair trade, though, since he was a team-best plus-nine last year, and is plus-20 over the last two seasons. Most importantly out of a true blue liner, Ramsey has been whistled for just 22 penalties while playing in all of Maine's 82 games in the last two seasons.
What He Does: Ramsey will be Maine's leader on the blue line this year. The 6-foot-4, 225-pounder is a scary physical presence who plays in all of Maine's key situations — power play, penalty kill and the first and last minute of each period. Ramsey is everything you would think of someone in a Black Bear uniform. A smart defenseman, he plays within himself and doesn't try to do too much. Ramsey understands his role as a defensive defenseman and leaves it at that, even though he has an offensive skill set better than most might think.
The Bigger Picture: Once an all-league water polo goalie at Long Beach (Calif.) Polytechnic High School, Ramsey doesn't have the true hockey background of most players in Division I. He came along slowly as a freshman at Maine, but he has seen "dramatic improvements" each year, according to coach Tim Whitehead. As someone who has already shown the ability to lock down a guy for an entire game, Ramsey should grow into Hockey East's best true defenseman as a senior.
Maine head coach Tim Whitehead on Ramsey: "I think he's a real sleeper in a lot of ways, especially at the pro level. If somebody in the league is looking for a free agent to watch, as far as a late bloomer, he didn't start playing hockey until he was 12 or 13. … It's not surprising that it would take him longer to emerge because he started playing hockey later, and he came from a non-traditional hockey area. … He's the type of player you want as your leader. He's tough, and he's appreciative of his opportunity because nothing was handed to him. He's gone out and worked hard for everything he's gotten, becoming a full-scholarship player after starting with next to nothing. It's a very good story, and he's very inspiring."
— Jeff Howe