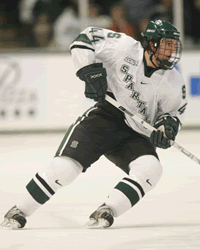 Ratchuk's four goals all came before the New Year in 2006-07, but his offensive numbers should increase as a sophomore.
---
Key Statistics: Ratchuk finished tied for third among MSU defensemen in scoring with 12 points as a freshman, appearing in 40 games. Three of his four goals came on the power play.
What He Does: Ratchuk has the skating ability, skill level and creativity that coaches look for in pure offensive defensemen. He has a high-energy style – and a high-energy personality – and plays the game with a flair.
The Bigger Picture: Few positions, if any, require a bigger adjustment for freshmen than offensive defenseman. That showed as Ratchuk learned his defensive responsibilities, but head coach Rick Comley wants to ensure that he doesn't sacrifice offense. Ratchuk's experience at the U.S. junior camp this summer should help as he enters his sophomore season, and the graduation of Tyler Howells and Ethan Graham will open up minutes on the blueline. Ratchuk should be the go-to offensive defenseman for the defending national champions.
Michigan State head coach Rick Comley on Ratchuk: "He always has a smile on his face when he's at the rink. He loves the game, he loves the history of the game, the future of the game. He's one of those kids who probably goes to bed every night thinking about his future in the game."
— Nate Ewell