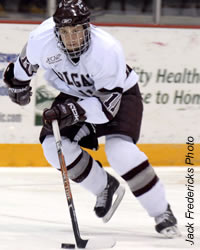 Riley showed signs of being a top-level offensive performer for Colgate until he was slowed by an injury.
---
Key Statistics: After scoring just six points in his freshman campaign, Riley busted out of the gate for Colgate last year with 11 points in a seven-game scoring streak early in the seson. He went on to finish the year with 21 points in 38 games.
What He Does: Riley is on the small-ish side at 5-feet-10 and 190 pounds, but he's a good skater who can attack the net on the rush. He has the ability to slow the game down the way only the most creative offensive players can. And he's versatile, a threat to either set up his teammates or score himself.

The Bigger Picture: It's getting to be a little bit boring, writing every year about a young, relatively unknown and unheralded Colgate player emerging to become one of the better forwards in ECAC Hockey by the time he is an upperclassman. Riley has shown signs of being the next in a line of late-bloomers like teammate Jesse Winchester and former Raiders Jon Smyth and Kyle Wilson.
Colgate head coach Don Vaughan: "We saw some signs of what he can do offensively. Coaches don't like to talk about injuries, but he was pretty courageous all last year. He played his best hockey in the playoffs."
— Joe Gladziszewski