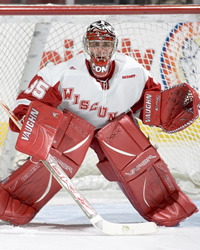 Connelly was a backup as a freshman when the Badgers won the national championship in 2006. He'll have a bigger say in their fate this year.
---
Key Statistics: Playing the understudy role to 2006 Hobey finalist Brian Elliott, Connelly was 4-1-2 in seven starts last season (with three shutouts) and boasted a tiny 1.11 goals-against average. His work included a 2-0 whitewash of eventual national champ Michigan State on Thanksgiving weekend.
What He Does: Having grown up 10 minutes from the hometown of another Quaker State kid who played a little goal in Madison in advance of a 15-season NHL career (Mike Richter), Connelly says he'd definitely like to keep following that path. But for now, he's content to try and earn a second NCAA championship ring – this time as the Badgers' top goalie.

The Bigger Picture: Stop us if you've heard this before, but Wisconsin goalie coach Bill Howard (the Jedi master of WCHA goaltending) looks like he's produced a pretty good young netminder. Connelly came to Wisconsin from the USHL as a prototypical butterfly goalie, and then spent two seasons learning from both Howard and Elliott. His game has evolved to include better reading of the play, smarter control of rebounds, and more staying on his skates. That's a Howard-taught method of conserving some of the energy that's otherwise expended via the constant knee drops so common to the butterfly style. After a mixture of boredom (sitting on the bench), pressure (being thrust into the starter's role when Elliott missed a month due to a knee injury) and ecstasy (winning the Frozen in Milwaukee) as a freshman, Connelly played a complimentary role last season. The Badgers closed the season on an 8-3-2 run and just missed an NCAA invite – a perceived injustice they're determined not to repeat.
Ex-Wisconsin forward Andrew Joudrey on Connelly: "Shane's big thing is athleticism and being active in the net. He used to react before the shot, but after working with Coach Howard, we really saw him become a lot more patient, more effective and more efficient. He's learned to wait for the shooter to make a move and to not over-move or over-react. We played with a much more relaxed feeling when Shane was back there last season."
— Jess Myers