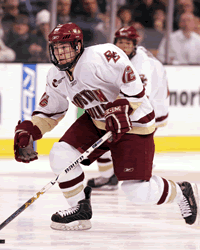 Smith was named BC's top freshman last season and the school's top freshman male scholar-athlete.
---
Key Statistics: Smith played all 42 games as an Eagle freshman, and his 10 goals and eight assists ranked him eighth on the team's scoring chart (tops among rookies).
What He Does: Smith has a great understanding of the game and the ability to play multiple roles, as evidenced by his moves from fourth line to first during his freshman season. He's a shade under six feet tall, but he's impressed his coaches with his off-ice work and is a solid 205 pounds, which allows him to play a physical game.
The Bigger Picture: When head coach Jerry York moved Brian Boyle back to defense late last season, it was Smith he tabbed to center Nate Gerbe and Brock Bradford. He responded, recording 4-6—10 in his last eight games. While that top line may not be set in stone, Smith's role as an offensive weapon is expected to continue in 2007-08.
Boston College head coach Jerry York on Smith: "When we moved Brian back on D, we were looking for someone to step up and play between two really high profile players. He really impressed all of us as a coaching staff. He had been very effective on the third or fourth line for us, but we saw a whole new side to his game."
— Nate Ewell