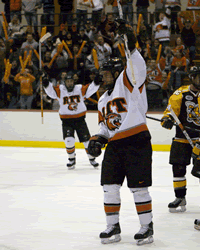 Smith produced 23 of his 35 points his junior season while on RIT was on the power play.
---
Key Statistics: RIT coach Wayne Wilson says Smith may be the most unheralded goal scorer in Atlantic Hockey. Last season Smith ranked sixth in the league in goals (17) and 12th in points (35), impressive for a fourth-line winger. Smith made his mark on the power play, posting 11 goals and 12 assists – his man-up tallies were tops in the league and ranked fifth nationally. He was one of 71 players in the nation and 15 in Atlantic Hockey to average at least one point per game. In three seasons Smith has 22 power-play tallies.
What He Does: Smith always puts himself in good positions to shoot and he's not afraid to pull the trigger anytime and from anywhere. He's got a heavy shot which always seems to find the net. Wilson said Smith has developed from a one-dimensional player into an overall competitor. The biggest difference in his game is his willingness to make plays happen rather than waiting for teammates to set him up.
The Bigger Picture: Wilson needs to reassemble his forward units but one thing is for sure: Smith will no longer be hidden on RIT's fourth line. Smith has already earned his undergraduate degree in three years, and his return is welcomed by a Tigers team which lost some grit and its leading point scorer in Washington Capitals' signee Steve Pinizzotto.
RIT head coach Wayne Wilson on Smith: "We know we have someone we can use late in the game, someone who has proven himself. Now we're looking to put him into bigger roles."
— Ken McMillan