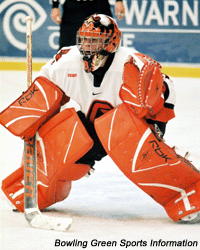 Spratt was named Bowling Green's most improved player in 2006-07.
---
Key Statistics: Spratt, who played nearly twice as many games last season (31) than he did during his freshman campaign (16), raised his save percentage from .855 as a rookie to .886 in 2006-07 while lowering his goals against average from 4.35 to 3.64.
What He Does: At 6-1 and a shade under 185 pounds, Spratt is a hybrid of sorts — a combination of a net-engulfing monolith like Maine's Ben Bishop and an acrobatic garden gnome like North Dakota's Philippe Lamoureux. Consistency has been a problem for Spratt, a two-time United States Hockey League all-star who backstopped Sioux City to a second-place finish in the USHL playoffs in 2004-05. In each of his first two seasons with the Falcons, he's got out to abysmal starts, but his play improved dramatically during the second half of the year.

The Bigger Picture: Josh Unice's decision to play in the Ontario Hockey League instead of enrolling at Bowling Green means the bulk of the Falcons' goaltening burden again falls on Spratt's shoulders. Coach Scott Paluch hopes that with the right mental approach and two seasons of experience in tow, Spratt can avoid the slow starts he's endured in the past and kick off the year in mid-season form. From a technique standpoint, Spratt can sometimes be too active in the crease. The BGSU coaching staff has stressed to Spratt the importance of limiting his movement and getting him to concentrate on cutting off the angles and work on being bigger in goal.
Bowling Green coach Scott Paluch on Spratt: "There is an art of goaltending, and there's so much mentally that goes into it. Consistency is the biggest question mark in his quest to become a top-notch goalie. He's got the ability. Our job is to get him focused right from the start."
— Mike Eidelbes