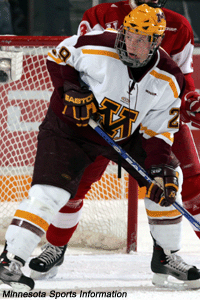 Six of Stoa's 12 goals in 2006-07 came on the power play. Among Gopher players, only Jay Barriball and Ben Gordon (seven each) had more.
---
Key Statistics: After a 25-point rookie season, Stoa had similar numbers during his sophomore campaign. He notched a dozen goals and a dozen assists to help the Golden Gophers repeat as WCHA regular-season champs and capture the league's playoff title. His power-play goal versus Air Force in the NCAA playoffs started Minnesota's third-period rally.
What He Does: In the first half of last season, Stoa and his linemates did an excellent job of filling the offensive holes left by the early departures of players like Ryan Potulny, Phil Kessel, and Dan Irmen the previous spring. Paired with Tyler Hirsch and Kyle Okposo, Stoa's unit was clearly the team's primary source of offense. That changed over the holidays when Hirsch was dismissed from the team, but Stoa and Okposo continued to produce in other ways, playing a regular shift as well as killing penalties, running the power play, and playing a shutdown role against the opponents' top line late in the season.
The Bigger Picture: In his two seasons of college hockey, Stoa has been used in every role by Minnesota coach Don Lucia. So there's nothing new in terms of special teams, scoring, or checking that will be on his plate in 2007-08, but the coach admits he'd like to see a more consistent offensive presence from Stoa. The plea for consistency is a familiar refrain for the player. "Every coach I've had since high school has put that on repeat," Stoa said. "I've always felt that if you're getting chances, you're doing something right."
Golden Gophers coach Don Lucia on Stoa: "Ryan is a quiet leader who works hard on the weight room and on the ice. He's good around the net because he's big and strong, but there's not one particular thing you look at and can say 'that's Ryan's role.'"
— Jess Myers