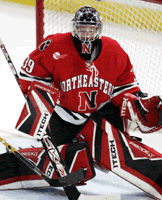 Thiessen was runner-up to Maine's Teddy Purcell in Hockey East Rookie of the Year voting last season.
---
Key Statistics: Thiessen posted an 11-17-5 record with a 2.48 goals-against average, playing in 33 of Northeastern's 36 games. His .921 save percentage stands as the best in school history for the Huskies.
What He Does: Thiessen is a smart, steady goaltender who stays square to shooters and doesn't get caught out of position. His positioning is key to his success agains the first shot; he'll rely more on his athleticism on rebounds. A farm boy from British Columbia, he has a laid-back approach and doesn't get rattled, even as he faced more than 30 shots per game as a rookie.
The Bigger Picture: On the surface, Thiessen may seem a strange pick for INCH's A to Z feature if you know anyone from Northeastern's team, it's probably him. But if Northeastern is to continue making strides this season, he will still be at center stage, and he has a chance to gain even greater notoriety at both the league and national level. The departure of John Curry, Jon Quick and Cory Schneider means the best-goalie-in-Hockey East mantle is up for grabs, and Thiessen is in the mix to earn that title. He could prove to be among the best in the country as well.
Northeastern sophomore Greg Costa on Thiessen: "At first I think he was nervous, coming in as a freshman on a team with a senior goaltender. But his confidence grew with his success. He had weekend out in Michigan (an overtime loss and his first career win), and that was a huge turning point. Not that he wasn't good before, but that weekend really showed what he could do."
— Nate Ewell