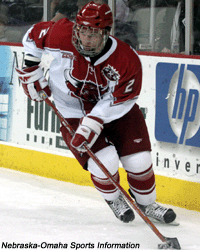 Uotila scored five goals and added 18 assists in 40 games for Nebraska-Omaha last season.
---
Key Statistics: Uotila (pronounced OOH-ahh-TEE-lah) scored a total of 38 points in his first two seasons with the Mavericks. During that span, only eight CCHA defensemen totaled more points. Of those eight, only one (Alaska's Tyler Eckford) returns this season.
What He Does: In a word, everything. Uotila is an excellent skater — not surprising for a guy whose mother is a former Olympic figure skater and whose sister was a member of Finland's national figure skating team — who covers a lot of area. As evidenced by his career point total, he has a knack for captializing on scoring opportunities, but not at the expense of his defense. He's also made the adjustment from playing from playing on the Olympic-sized ice sheets favored in Europe to the smaller, North American rink where things happen quicker and reaction time is shorter.
The Bigger Picture: Nebraska-Omaha coach Mike Kemp says Uotila has the potential to be one of the premier defensemen in the CCHA if he can improve his play in his own end and become more consistent offensively — of his 23 points last season, nine came in the Mavs' first six games and another seven were scored in a seven-game span between Nov. 21-Dec. 10. That consistency will be an important factor for a UNO team that returns most of its key components from last season but must replace its two top forwards, Scott Parse and Alex Nikiforuk.
Nebraska-Omaha coach Mike Kemp on Uotila: "He is a little bit streaky, but putting him in situations where he has a chance to be more consistent offensively is up to us as coaches."
— Mike Eidelbes