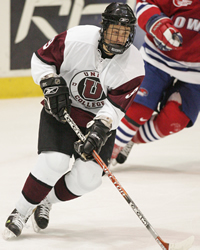 Walters was an impact freshman for Union last year and was asked to do a lot as a rookie centerman.
---
Key Statistics: Walters finished third in scoring for Union with 27 points on eight goals and 19 assists. He was also Union's top faceoff man, winning 380 draws and losing 273 for a strong .582 percentage.
What He Does: Walters was a consistent scorer throughout the season for Union and was a part of a freshman tandem that the Dutchmen coaching staff asked to play center on the second and third lines. The other rookie pivot, Mario Valery-Trabucco, had 23 points. That meant both players had to demonstrate responsibility on both sides of the puck, and both did. Walters had three goals and an assist in two Union wins over UMass-Lowell and Connecticut in December and was named ECACHL Rookie of the Week. Those games were part of an eight-game point streak in which Walters had 13 points. He never went more than two games all year without recording at least one point.
The Bigger Picture: He's the type of player that Union coaches hope will be a number-one center in the future, including as soon as this year. That means he'll be matched up against the opponent's top lines and top centermen. Walters is a sound two-way player and should be able to handle that responsibility and also keep his scoring numbers up. By comparison, his 27 points as a freshman were better than the 20 points that T.J. Fox had as a freshman. Fox went on to lead Union in scoring last year and signed a professional contract with the San Jose Sharks organization.
Union coach Nate Leaman on Walters: "Jason is a complete player and a very good face-off man. His 27 points were excellent considering everything else we've asked him to do. He bring outstanding intensity and really did an excellent job for us."
— Joe Gladziszewski