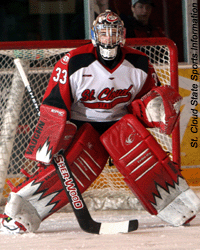 In limited action last season, Weslosky was 5-1-0 with a .899 save percentage and a 2.67 goals against average.
---
Key Statistics: As a rookie for the Huskies, Weslosky made the most of the selected times he got the call while backing up Bobby Goepfert. Weslosky went 5-1-0 in six starts, and stopped 24 shots to shut out nationally-ranked Clarkson on Nov. 17.
What He Does: Weslosky knew very little about college hockey before coming to St. Cloud a year ago, and his freshman year was one filled with learning in the classroom, on the ice and on the bench. As much knowledge as he gleaned from professors, Weslosky was a keen observer of Goepfert's habits pre- and post-game, as well as studying what happened once the puck dropped. The sophomore ate up every bit of Goepfert info, from what he ate on gameday to when and for how long he took a pre-game nap, and is prepared to put that knowledge to work as the Huskies' expected no. 1 goalie this year.
The Bigger Picture: If bigger is indeed better, goaltending may be a reason to look for the Huskies to return to the NCAA tournament in 2008. Weslosky spent the summer skating, lifting weights and eating right (and often) and returned to the Granite City with nearly an extra 20 pounds on his 6-2 frame. A prototypical butterfly goalie during his time in the Alberta junior ranks, Weslosky says his game has evolved to take advantage of his size, limiting his amount of going down to prevent getting beat up high. With more experience has come more patience and knowing when to hold his ground and let his natural net-filling size do the work. After a few games of getting his feet wet and adjusting to the speed of the college game last year, Weslosky says he's ready for the workload and the pressure inherent with being the go-to guy.
Huskies coach Bob Motzko on Weslosky: "We're going to start the season unproven in so many areas, but with Jase, that's one area where we have some experience. He stood tall when he was in there last year, and he knows the WCHA well having played behind Bobby. He got to see the college game from a kind of observation deck last year, and I think that'll be valuable."
— Jess Myers