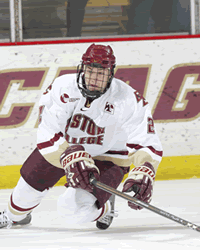 As a junior, Andrew Alberts' game grew to match his 6-foot-4 frame. Boston College fans expect continued improvement from their top returning defenseman.


---
Key Statistics: In 42 games last season, Alberts posted 16 points (4 goals, 12 assists) and a +20 rating. He was a conference-best +21 in Hockey East games.
What He Does: On a team defined by small, skilled forwards, Alberts stood out by size (6-foot-4, 215 pounds) when he arrived at BC as a freshman. Last season, as a junior, his game grew to enormous proportions as well. His ability to be a physical presence is matched by a knack for using his size and reach to block shots and passes. He's also developed the offensive side of his game significantly in the past year.
The Bigger Picture: Naturally, more is expected out of returning first-team All-Americans, and Alberts will face those expectations this season. He should be ready for the challenge, thanks not just to his expanded skills, but also his burgeoning confidence. He'll still need to provide the muscle behind BC's buzzing forwards, and clear space in front of the goaltenders. Expect his offensive role to continue its expansion as well – especially with the graduation of J.D. Forrest. Head coach Jerry York would like to utilize Alberts' shot more, especially for one-timers from the point on the power play.
Boston College coach Jerry York on Alberts: "He's developed into a prototypical NHL defenseman. He's a big, strong, physical presence who can make that first pass. I like what he brings to the dressing room as well. He's really serious about the game, and committed to having a long career."
— Nate Ewell