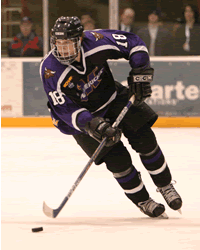 David Backes was second to North Dakota's Brady Murray among freshmen in WCHA play last season.


---
Key Statistics: Was the second-leading rookie scorer in WCHA play last season, (behind North Dakota's Brady Murray) notching 12 goals and 10 assists in 28 conference games; at season's end, became the first Maverick ever named to the league's All-Rookie team; one of only three Mavs to play in all 39 of the injury-plagued team's games.
What He Does: If this whole "playing hockey" deal doesn't work out for Backes, he might find work as a tough guy extra on The Sopranos. At 6-2, 200, he doesn't need to out-hustle opponents for many look pucks, when out-muscling them can be just as effective, and much more intimidating. And he's not planning to rest on his first-year physical laurels. When asked if he spent the summer skating, Backes' reply was: "Yeah, some skating, and a lot of lifting."
The Bigger Picture: When Grant Stevenson left Mankato early last summer, the highly-touted Backes was supposed to complement Shane Joseph and keep the Mavericks in the hunt for the WCHA title (they had finished second the season before Backes arrived). While Backes did indeed complement Joseph nicely (the pair combined for 35 goals and 80 points) the team struggled mightily, finishing just one point out of the WCHA cellar. With Joseph gone, all eyes are on Backes to lead a Maverick resurgence. An appearance by the sophomore jinx in Backes' locker room stall, and it could be a long cold winter for hockey fans in southern Minnesota.
According to Backes: "I use all of the tools I have. I can feed a pass across the ice to a teammate if the situation calls for that, but I'm always willing to lower the shoulder and go through a guy if I need to."
— Jess Myers