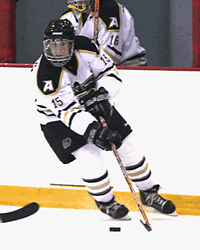 Beamer is a leader on and off the ice — Army's top returning scorer from last season is a candidate to be one of the team captains in 2004-05, a rare honor for a junior.


---
Key Statistics: Beamer led the disappointing Black Knights with 25
points (8g, 17a) last season. His eight goals were tied for third most on the squad. Was one of five players to dress for all 33 Army games (including four exhibitions). Point total was nearly triple that of his freshman year (5-4--9).
What He Does: Though Beamer is one of the most talented Black Knights, his leadership far exceeds whatever shows up on the stat sheet. He's among the candidates to be named team captain or assistant captain by new coach Brian Riley — a rare feat for a junior at West Point. On the ice, he's a solid two-way forward. He doesn't shirk defensive responsibility, and when he gets an offensive chance, he often makes the most of it. Beamer sets an example with his work ethic, which will be vital to a team welcoming 15 freshmen.
The Bigger Picture: As with every cadet at West Point, military duty is the biggest picture of all. Beamer spoke with INCH on his way back from a month spent at Fort Monmouth and Fort Dix in New Jersey leading a company of students headed to the academy's prep school. Down the road, he knows he'll probably be deployed for two of his five years of owed time, but even with the messy situations overseas right now, Beamer tries not to worry about it. "Everybody kind of has that weighing down on them, but it's not a burden," he said. "You understand and expect that when you come to the academy. You don't think about it much during the school year, but it hits you in the summer when you're doing field training." Asked if he had an opinion on current foreign policy, Beamer said, "Personally, I don't. We have
to protect our country, and we're pretty much just following the Commander-In-Chief."
According to Beamer: "I'm all about hard work. A grinder. Some kids are more talented, but I try to work harder than everyone. In the defensive zone, I'm looking to control the situation and find a man, but also keep my eye open for taking the puck the other way. When you get that puck on your stick, your eyes light up. You just want to get a quality shot and go for rebounds."
— James Jahnke