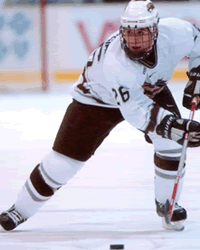 Bellissimo, who is averaging more than a point per game over his career, is the latest in a line of gifted scorers in Kalamazoo.


---
Key Statistics: Bellissimo led the Broncos with 40 points in 38 games as a sophomore and has 76 points in 75 career contests. He ranked among the CCHA's top 10 in points, assists (27) and power play goals (six).
What He Does: Western Michigan has been blessed with gifted scorers in recent years – David Gove, Mike Bishai and Dana Lattery, to name a few – and Bellissimo is the latest in that line. He followed up a 36-point rookie effort with 13 goals and 27 assists last season. His strength is his play in traffic. At 6-0, 200 pounds, Bellissimo isn't overly big, but he's tough to knock off the puck, likes to drive to the net and has a quick release on his shot. And while he won't remind anyone of Bob Gainey, he's not one to shirk his responsibilities in his own end.
The Bigger Picture: According to Western Michigan coach Jim Culhane, it's not how much Bellissimo scores but when he scores that will be crucial to the Broncos' success this season. Only four of his 32 career goals are of the game-winning variety and with the departures of Lattery, Jeff Campbell and Lucas Drake among others, the onus for producing in the clutch falls on the Toronto native's shoulders. In an effort to drive his point home, Culhane had Bellissimo focus on Jarome Iginla and Martin St. Louis during the Stanley Cup Finals. He used a similar method to get Bellissimo thinking more about all-around play, urging the die-hard Maple Leafs fan to study the games of guys like Gary Roberts and Joe Nieuwendyk.
Western Michigan coach Jim Culhane on Bellissimo: "Over his career from a junior player to the present day, Vince has demonstrated his offensive skill. We've challenged him to.develop some grit and edge and to score big goals at big times. He has to be a difference when pucks aren't going into the net. You can't be a one-dimensional player."
— Mike Eidelbes