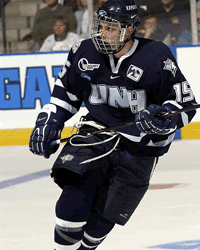 Callander's goal total tripled from his freshman to sophomore year, then nearly doubled again last season.


---
Key Statistics: Callander was second on the Wildcats in goals (21) and fourth in points (35) last season. He has seen his goal totals jump from 4 to 12 to 21 in his first three seasons of college hockey.
What He Does: If you associate free calendars with insurance agencies, Callander is definitely Allstate – good hands. His skating is adequate and he's responsible defensively, but Callander's game is defined by his stickhandling. He can shoot on both his forehand and backhand and controls the puck deftly. He has been a bit of a streaky scorer in the past, as well as one who has earned a reputation for scoring in big games, and at important times.
The Bigger Picture: Callander could be UNH's leading candidate to make a Steve Saviano-like leap in offensive production as a senior. He's versatile enough to play either center or wing, which leaves open the possibility that he could take Saviano's place alongside Sean Collins and Justin Aikins on a frighteningly good first line. If that trio is split up for balance, the Wildcats may look to Callander to help a sophomore like Brett Hemingway, Jacob Micflikier or Daniel Winnik elevate their game.
UNH associate coach Scott Borek on Callander: "He's a gifted offensive player. He has an incredible knack to deflect pucks – he's got to be the best in our league at that. He's got a great, creative stick, and he can use it to create space for himself."
— Nate Ewell