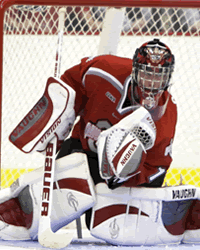 Caruso will take the Derek Lowe approach this season: move from elite reliever to a top-notch starter.


---
Key Statistics: Played in 14 games, including 11 starts, posting a 9-3-0 record, a 1.97 goals against average and a .924 save percentage. He helped the Buckeyes to their first league playoff championship since 1972, earning victories in each of OSU's three games at the CCHA Super Six.
What He Does: Last season, Caruso was to the Buckeyes what Frank Reich used to be to the Buffalo Bills of the 1990's – the likeable, team-first backup who'd patiently bide his time behind the starter, then perform with no appreciable drop-off when given the chance. More of a scrambler in goal, Caruso likes to challenge shooters and rely on his lateral quickness to make saves.
The Bigger Picture: Now that he's the Buckeyes' most experienced netminder, Caruso must prove he can consistently win games as opposed to shining in relief duty. He's an adequate skater who likes to handle the puck and never gives up on a play – the quickness that allows him to move so well from side-to-side also lets him recover fast enough to get out of trouble.
According to Caruso: "When I'm not having fun, I'm not playing well. It's rolling with the punches. You're going to have good periods and bad periods. You have to persevere."
— Mike Eidelbes