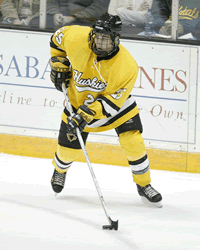 Conner's spectacular sophomore season included a SportsCenter moment.


---
Key Statistics: Was among the top four goal scorers in the WCHA last season after lighting the lamp 25 times; named the national player of the month for October last season; featured as an ESPN Play of the Day last December after an eye-popping goal vs. Michigan State in the Great Lakes Invitational.
What He Does: If Conner's opening month this season is anything like his opening month last season, opponents beware. In the Huskies' first seven games of Conner's sophomore campaign, the nimble forward recorded a pair of hat tricks and 18 points. While he slowed down a little after that sizzling start, and the team faded down the stretch (mostly due to struggles in goal and on defense), Conner provides Tech fans with the promise of a highlight film goal every time he hops over the boards, and the hope of a return to respectability for a long-suffering program.
The Bigger Picture: There were some serious fireworks to be had when the Huskies were penalized last season. Tech surrendered the most power play goals of any WCHA team, and Conner's eight shorthanded goals led the nation, meaning that when there was a Husky in the box, you were pretty much assured of seeing a goal scored by someone. An improvement on the defensive side of that equation might loosen the Huskies' kung-fu grip on the WCHA cellar (Tech has finished eighth or worse for six consecutive seasons).
Minnesota State, Mankato, coach Troy Jutting on Conner: "Chris is an electric player who can beat you one-on-one with his feet or his hands. He's a scary kid with the puck on his stick."
— Jess Myers