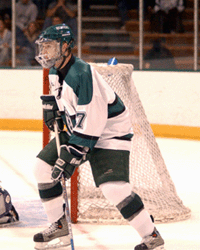 Bemidji State's Brendan Cook led College Hockey America in power play goals, shorthanded goals and game-winning goals.


---
Key Statistics: Ranked no lower than third in the CHA last season in seven categories — points (third with 39), goals (second, 23), power play points (second, 17), power play goals (first, 10), shorthanded points (tied for first, five), shorthanded goals (first, five) and game-winning goals (first, seven).
What He Does: According to Bemidji State coach Tom Serratore, Cook is "a bona fide college hockey all-star." As you might expect from a guy who scored 23 goals last year, Cook boasts a hard, accurate shot with a quick release, possesses exceptional one-on-one skills and anticipates opponents' actions with alarming regularity (hence the five SHGs). Regardless of the situation, Cook is often the first player Serratore sends over the boards — he logged about 25 minutes a game in 2003-04. When he catches a breather, it isn't in the penalty box. Cook was whistled for two minor penalties last season.
The Bigger Picture: Rather than spending summers at home, Cook stays in Bemidji during the off-season to refine various aspects of his game. After his freshman campaign, he concentrated on improving his quickness. More recently, the focus was on getting stronger. At 5-foot-9 and 184 pounds, Cook is the best conditioned BSU player, squatting 500 pounds and hoisting 300 pounds on the bench press. Serratore says Cook's has become an elite player thanks to his summer regimen and incredible work ethic. If the Beavers, who bring back nine of their top 10 scorers from last season, expect to earn the CHA playoff championship that eluded them in March, Cook will have to repeat his on-ice performance from a year ago and serve as an example for BSU's younger players..
Bemidji State coach Tom Serratore on Cook: "He'd be a top forward for anyone in the country. When we play Minnesota-Duluth, when we play Minnesota...he's one of the best players on the ice."
— Mike Eidelbes