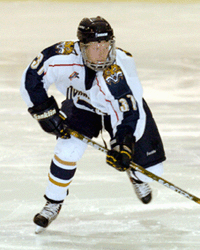 Craig's scoring dropped by 16 points in 2003-04, but he still led Quinnipiac offensively.


---
Key Statistics: Led the injury-riddled Bobcats with 25 points (13 goals, 12 assists) as a junior, one year after tying for the league lead in scoring with 41 points (18-23). Had 31 points as a freshman. His 106 shots paced Quinnipiac last year, and his 40 penalty minutes were fifth most on the team.
What He Does: Craig is one of the most offensively gifted players in Atlantic Hockey. He can generate scoring chances with his skating and stickhandling abilities, as well as solid positioning. Around the crease, Craig seems to have a certain, indefinable knack for putting the puck in the net. But while his offensive star burns brightest, Craig also is dependable in other facets of the game. Coach Rand Pecknold labels him as "solid" defensively, and he declared Craig to be the team's best at winning faceoffs.
The Bigger Picture: Craig's creativity is an asset Atlantic Hockey, as a league, would like to have more of. He can bring people out of their seats once in a while, which is the brand of hockey that will lure more fans to league games. For his team, Craig will be a focal point of a potentially explosive offense this year. However, the senior must bounce back from a sub-par season – statistically – last year.
Quinnipiac coach Rand Pecknold on Craig: "He'll be down low in a pileup of four or five players and it will look like there's nothing going on. Then all of a sudden, he'll be stickhandling out of it from the corner and he'll come in and get a good shot on net. He's not just a pure shooter, and he's not just a pure passer. He's kind of a 'tweener, but he's very dynamic."
— James Jahnke