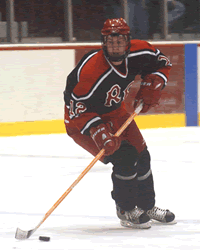 Croxton has always given the Engineers offense, but they may need it more than ever in 2004-05 after the loss of a terrific senior class.


---
Key Statistics: Croxton was a point-per-game player last year with 18 goals and 21 assists in 39 games. Among ECAC players, he ranked tied for fourth in overall point production and tied for third in conference scoring.
What He Does: Croxton has carried the Rensselear offense through his first two seasons. He led the team in scoring as a freshman and sophomore. In each of those years he was the top goal scorer and set-up man.
The Bigger Picture: His offensive contributions will be needed even more this year if Rensselaer hopes to repeat last year's fifth-place finish. The Engineers lost a productive senior class featuring goaltender Nathan Marsters, defenseman Scott Basiuk, and forward Ben Barr.
RPI coach Dan Fridgen on Croxton: "He's really developed nicely as a player. Last year he made more of a commitment to playing solid team defense and that makes him a better all-around hockey player. He's an honor student, he's come back this year in very good shape and is real hungry. He has a passion for the game."
— Joe Gladziszewski