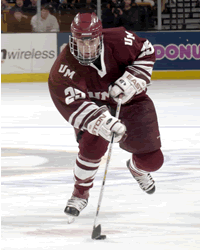 Degon was a New England prep school superstar for Cushing Academy prior to enrolling at UMass.


---
Key Statistics: His 21 points (five goals, 16 assists) ranked fourth on the Minutemen last season, with more than half of his points (3-8—11) coming on the power play. Only two returning Hockey East defensemen had more points last year.
What He Does: Degon is a talented offensive defenseman, and it all starts with his tremendous skating ability. That's especially beneficial on the larger ice surface at the Mullins Center. He also boasts good poise with the puck on his stick and a strong shot; UMass forwards use the points very effectively in the offensive zone, and his shot provides scoring chances on deflections or rebounds.
The Bigger Picture: Thomas Pöck's departure will open up huge minutes for Degon, who was a prize recruit for the Minutemen coming out of Cushing Academy three years ago. He'll now have the opportunity to quarterback the first power play and take over as the team's top puck-moving defenseman. With opportunity comes a challenge, however: he can't be expected to – nor can he expect to – fill Pöck's shoes. That won't happen, although it wouldn't be a surprise if the top offensive defenseman in Hockey East came from Massachusetts again this year.
Teammate Stephen Werner on Degon: "He's going to be a huge part of our team. He's an offensive defenseman, and we just lost the best offensive defenseman in college hockey. And I think he's underrated defensively – he's really tough for his size."
— Nate Ewell