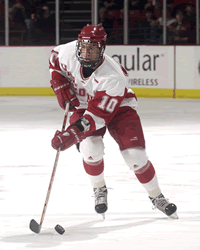 Earl, according to his coach, plays like a power forward and has shown the ability to take over a game on his own.


---
Key Statistics: Wisconsin's top freshman point-getter with 14 goals and 13 assists last season; led the Badgers in power-play goals (6) and game-winning goals (3); has the only hat trick by a Badger at the Kohl Center since the building opened in 1998.
What He Does: Then-No. 1 North Dakota got an up-close definition of the term "impact freshman" last Feb. 6, when Earl all but single-handedly turned a sure Sioux win into an overtime loss. North Dakota had a commanding 3-0 lead before Earl scored in the second period, third period and overtime in Wisconsin's 4-3 win. On a team with heralded rookies like Ryan Suter, Jeff Likens, Mark Heatley and Ross Carlson, Earl's one-man show got him included on that night's ESPN SportsCenter highlights package.
The Bigger Picture: Badgers' skipper Mike Eaves coached Earl with the National Development Team before the pair migrated to Madison. He raves about Earl's low center of gravity, which "allows Robbie to play a power forward type of game, and gives him the ability to pop guys in order to get to the puck." That power game helped get the Badgers to within an overtime goal of the Frozen Four last year. If Earl's game can take the next step that his coach expects this season, Wisconsin fans may party like it's 1992 (the year of the Badgers' last Frozen Four appearance).
Michigan Tech coach Jamie Russell on Earl: "When we play Wisconsin, you've got to look at your matchups on every shift that he's out there and be aware of what he's doing. Robbie plays both ends of the rink at full speed."
— Jess Myers