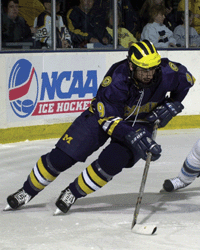 Milan Gajic scored 20 points for Michigan in a 12-game stretch following last season's holiday break.


---
Key Statistics: His 33 points in 40 games was the third-best total among Michigan skaters last year. He shared the team lead in power play goals with T.J. Hensick and Eric Nystrom – each had a half-dozen PPGs in 2003-04.
What He Does: Prior to last season, Gajic was better known for what he didn't do. The enigmatic forward scored 22 points as a freshman and 21 as a sophomore, but was prone to disappearing for long stretches. Whether his production spike last season was a result of becoming more mature or being put on a line with Hensick, a slick passer, Gajic looked more like the player who scored 98 points in 50 games in his last season of junior hockey.
The Bigger Picture: Gajic's tendency to be a non-factor for games at a time was still evident last season. He had four goals and four assists in the Wolverines' first 17 games, then recorded 8-12—20 in the team's next 12 contests. That offensive explosion preceded a seven-game scoreless streak, though Gajic bounced back to score five points in Michigan's last four postseason games. Still, the combination of Hensick's passing and Gajic's hands – he's got arguably the quickest stick in the CCHA – was unstoppable at times. He's not one to create his own opportunities, however, surprising for a guy who was so successful in juniors. If he learns to make his own scoring chances, he could be one of the CCHA's dominant offensive threats.
Miami assistant coach Jeff Blashill on Gajic: "He's got a great stick. He's one of those players who only needs one chance to hurt you...and if the guys on their team get him the puck, he will hurt you."
— Mike Eidelbes