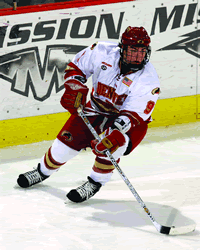 Gauthier is just 5-foot-9, 185 pounds, but he led Denver in scoring last season. Only four returning WCHA players had more points than his 43.


---
Key Statistics: Led the national champions offensively with 43 points (18 goals, 25 assists); Scored the only goal and recorded the final penalty in NCAA title game; His eight-game point streak between Feb. 21 and Mar. 26 was one of the keys in the Pioneers' run to the Frozen Four.
What He Does: When the Pioneers need to win a key faceoff, Gauthier is the guy George Gwozdecky usually sends to the red dot. Last season, Gauthier rewarded his coach's faith by winning nearly two-thirds of the draws he took. While some have said his skating and his size are drawbacks, Gauthier provided just enough offensive spark on a team without a true offensive star last season. As the only one of the team's top three scorers returning to Denver, he's expected to carry an even bigger load in the Pioneers' title defense.
The Bigger Picture: After being named Denver's top freshman two seasons ago, and leading the team to a NCAA title as a sophomore, one wonders what Gauthier can do for an encore in his junior season. "The only
way I can think of to have an encore is to repeat," says Gauthier, who, despite leading the national champs in scoring, says he's not a standout player. "I just try to get little things done, like winning faceoffs. Hopefully doing enough of those little things will enable the big things to happen."
Wisconsin coach Mike Eaves on Gauthier: "He's a guy with ability that you just can't teach. Size doesn't matter at all for a player like Gabe, because he's going to find a way to win the individual battles for the puck using speed and the other skills he has."
— Jess Myers