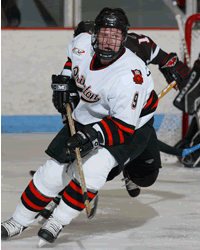 Goeckner-Zoeller was one of very few offensive weapons on Princeton's team last season. With another year of maturity and new head coach Guy Gadowsky, the Tigers hope for more success in 2003-04.


---
Key Statistics: Led the Tigers in scoring as a freshman with 5-14—19 in 31 games.
What He Does: Finding character guys at Ivy League schools is about as easy as finding fit swimmers in Athens. Though he's just a sophomore, Goeckner-Zoeller will be an important part of on-ice and off-ice leadership for the Tigers under first-year head coach Guy Gadowsky. Goeckner-Zoeller is spending his summer working at a law firm in Los Angeles and may follow in his parents' footsteps. Both are graduates of Yale Law School.
The Bigger Picture: Goeckner-Zoeller's been through growing pains before. He was among the youth hockey players that latched onto the game when Wayne Gretzky's trade to the Kings made hockey a popular game in Los Angeles. Grant said that the entire Los Angeles area could form just one team that was even competitive with teams from other regions.
Goeckner-Zoeller on Princeton's outlook: "We started 15 underclassmen in most of our games last year. This year we're a year older, a year more experienced, and should be a better team."
— Joe Gladziszewski